BLEND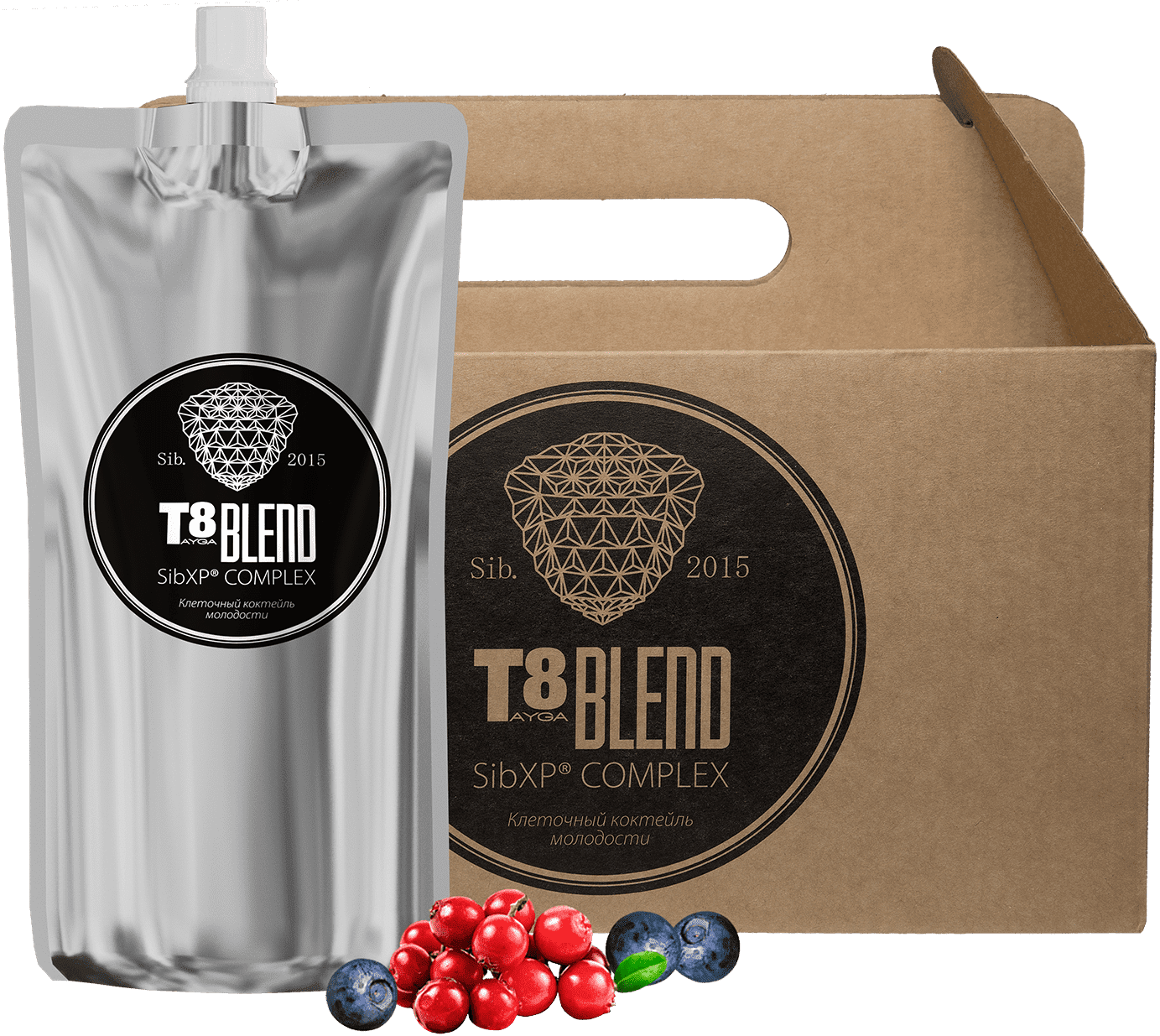 Т8 BLEND
T8 Blend is a combination of SibXP®Complex and juice of the six best Tayga berries. This is a unique barrier complex. Youth cell cocktail T8 Blend is a product that gives you vigour, great mood and incomparable pleasure from the rich bouquet of taste and aroma! It is а perfect choice for the whole family.

Buy
T8 Blend is a universal complex aimed at improving the natural immune protection of your body.
The basis of T8 Blend is SibXP®Complex, which includes polyprenols derived from live needles and fir cell juice. These components themselves are able to activate all the links of the immune system. But in addition, the composition of T8 Blend is enhanced by the addition of the juices of six taiga berries:
Honeysuckle - has a rich vitamin and mineral composition, including a rare high content of potassium for the plant world, which is necessary for the normal functioning of the heart muscle.
Bilberries - getting on the mucous membranes, blueberry juice has an antiseptic effect, and also contains the glycoside anthocyanin and tannins, which have anti-inflammatory properties.
Sea buckthorn - its juice is rich in carotenoids, amino acids and phytoncides, which have a destructive effect on the shell of viruses and bacteria.
Cranberries - contains anti-inflammatory components and can also be used as a means of complex therapy for colds, including acute respiratory viral diseases.
Blueberries - their juice does not have a bright taste, but it is a dietary product that stimulates cellular metabolism and strengthens the walls of blood vessels.
Cranberries - are an excellent disinfectant that acts on almost all known pathogens. At the same time, it has a diuretic effect.
Berry juices that are part of T8 Blend, we get by direct pressing, which allows you to save all the bioactive compounds contained in them. The composition of polyprenols of live needles, fir cell juice and taiga berry juice are an excellent immunostimulator that increases your resistance to viral and bacterial infections. You can drink the T8 Blend cocktail in undiluted form, or by adding it to other cold drinks or fermented milk products. This will give them a fresh and unusual taiga taste and aroma.
Composition: direct-pressed juices: honeysuckle, blueberries, blueberries, cranberries, lingonberries, sea buckthorn, SibXP Complex (Siberian fir cell juice, concentration of polyprenols (85%), coniferous complex CGNC).
Calorie table
The nutritional value (in 100 ml. product)
1 portion (30 ml.)
polyprenols
43,3 mg. (concentration 85%)
13 mg. (100% от РСП*)
maltol
65,33 mg.
19,6 mg.
Phenolic acids
8 mg. (in terms of gallic acid)
2,4 mg.
Vitamin C
81,84 mg.
24,5 mg.
Vitamin E
1 mg.
0,3 mg.
Iron
4,9 mg.
1,5 mg.
Potassium
99,58 mg.
29,9 mg.
Calcium
18,12 mg.
5,4 mg.
Phosphorus
22,29 mg.
6,7 mg.
Flavonoids
2,66 mg.
0,8 mg.
Magnesium
15,54 mg.
4,7 mg.
Proteins
0 gm.
0
Fats
0gm
0
Carbohydrates
9 gm.
2,7 gm.
Energy value
36 kcal/153 kJ
10,8 kcal/45,9 kJ
*recommended daily consumption
Сapacity: 750 ml.
Daily consumption: 30 ml.