BLEND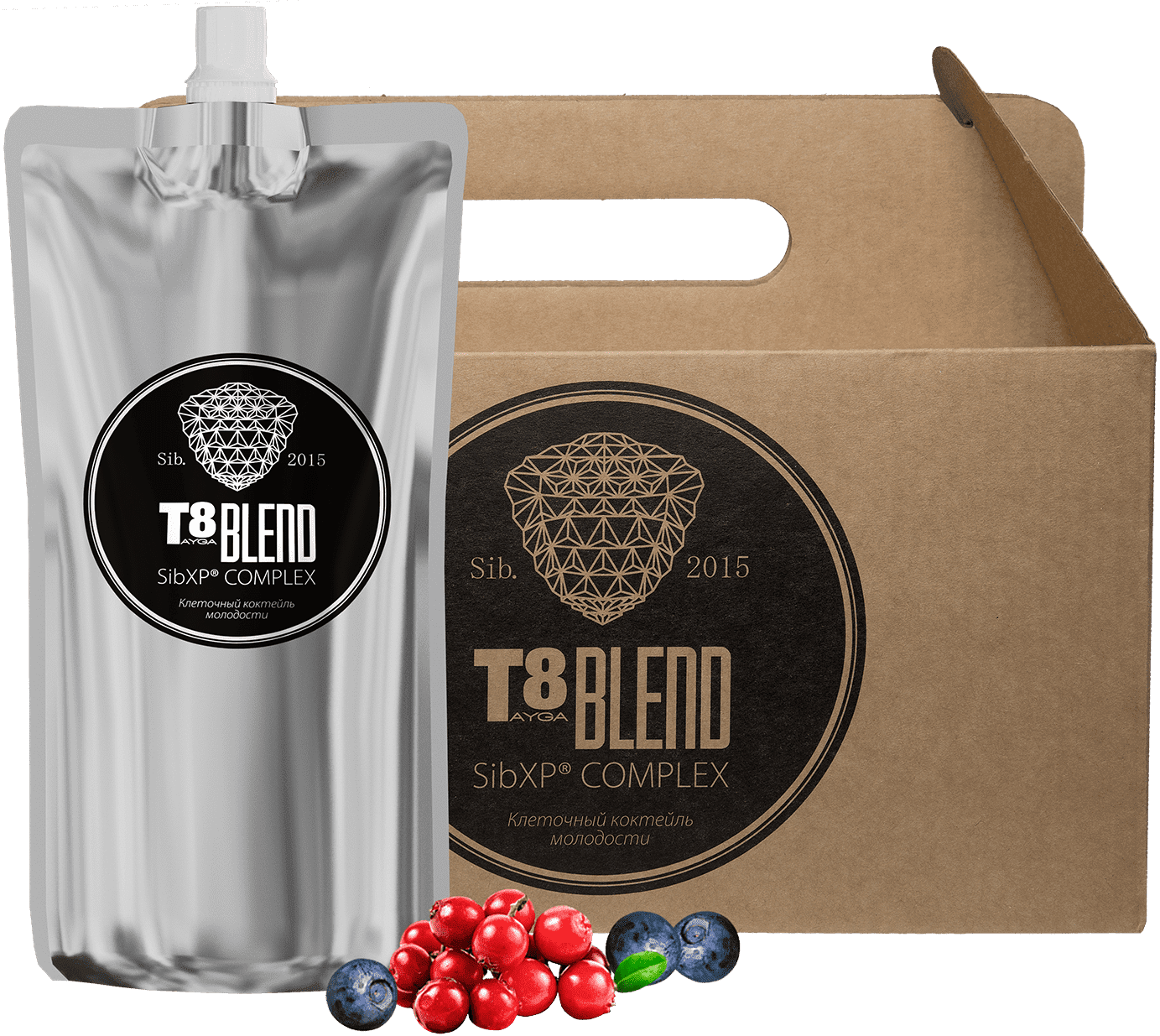 Т8 BLEND
T8 Blend is a combination of SibXP®Complex and juice of the six best Tayga berries. This is a unique barrier complex. Youth cell cocktail T8 Blend is a product that gives you vigour, great mood and incomparable pleasure from the rich bouquet of taste and aroma! It is а perfect choice for the whole family.

Buy
Т8 Blend cellular cocktail of youth is the product that gives you energy, perfect mood and incomparable pleasure from this bright combination of tastes and aromas! This is a perfect choice for the whole family.
The cocktail is based on SibXP®Complex, the effect of which is supplemented and strengthened by the juice of the six best Tayga berries:
Honeysuckle - boosts your immune system, digestion, eliminates toxins from your body
Bilberries - protects from free radicals, improves visual perception and memory
Sea buckthorn - fights against stress, overfatigue and bad mood
Cranberries - tones, increases mental and physical activity
Blueberries - slows down the process of cells ageing and regenerates skin cells
Cowberries - strengthen vessels and improves metabolism
Direct extraction and gentle treatment help to preserve the authentic taste and aroma of the berries as well as all the valuable nutrients that they contain.
Т8 Blend:
Regenerates liver cells
Strengthens body barriers against toxins
Optimizes natural interferon production
Protects the cells the nervous system from destruction
Reduces the level of cholesterin
Strengthens the walls of vessels
Improves the immune system
Take Т8 Blend cellular cocktail of youth undiluted or add some water, add to tea or other drinks*, mix with fermented milk products – quark, kefir or yoghurt, turning them into aromatic and healthy delicacies having unusual taiga taste. Experiment with tastes and enjoy them!
* Attention! The drink shall not be hot!
Calorie table
The nutritional value (in 100 ml. product)
1 portion (30 ml.)
polyprenols
43,3 mg. (concentration 85%)
13 mg. (100% от РСП*)
maltol
65,33 mg.
19,6 mg.
Phenolic acids
8 mg. (in terms of gallic acid)
2,4 mg.
Vitamin C
81,84 mg.
24,5 mg.
Vitamin E
1 mg.
0,3 mg.
Iron
4,9 mg.
1,5 mg.
Potassium
99,58 mg.
29,9 mg.
Calcium
18,12 mg.
5,4 mg.
Phosphorus
22,29 mg.
6,7 mg.
Flavonoids
2,66 mg.
0,8 mg.
Magnesium
15,54 mg.
4,7 mg.
Proteins
0 gm.
0
Fats
0gm
0
Carbohydrates
9 gm.
2,7 gm.
Energy value
36 kcal/153 kJ
10,8 kcal/45,9 kJ
*recommended daily consumption
Сapacity: 750 ml.
Daily consumption: 30 ml.