EXTRA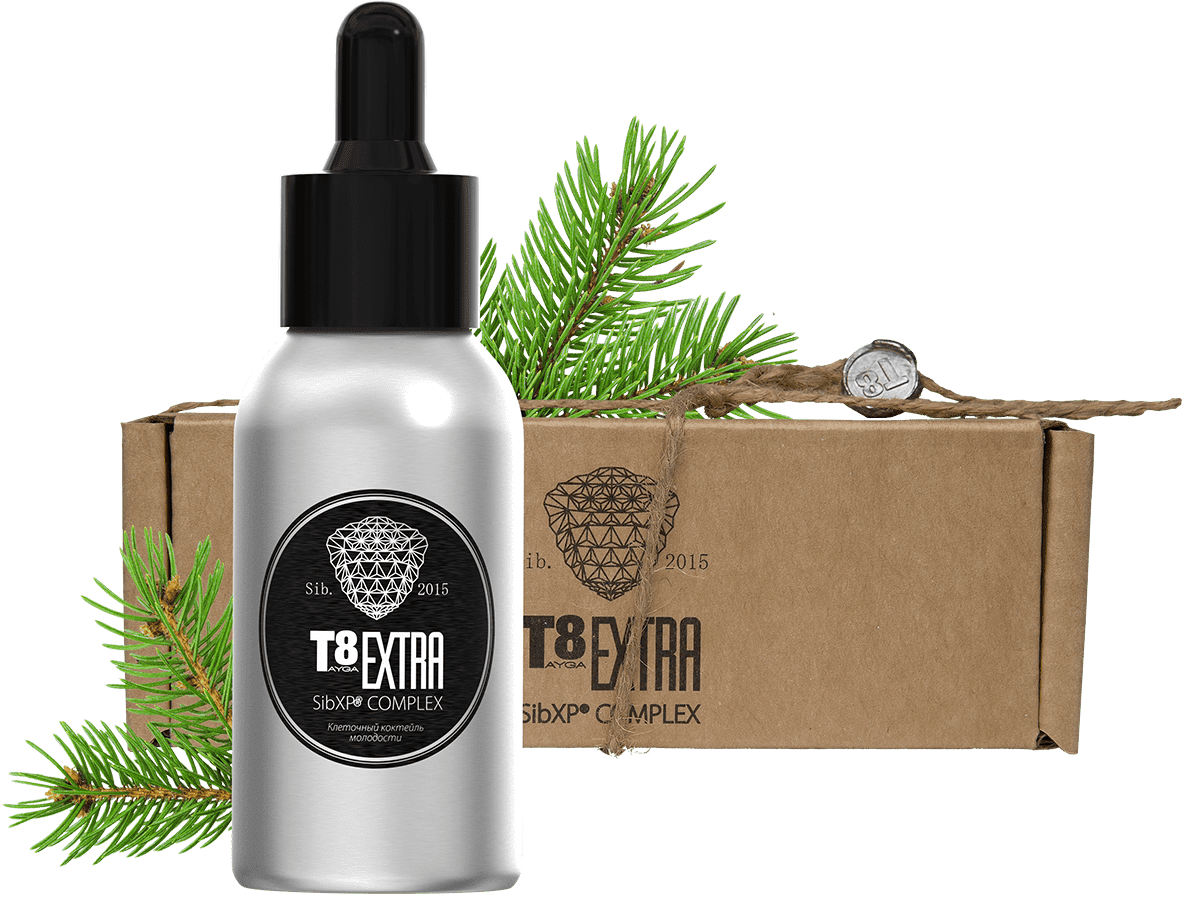 EXTRA
T8 Extra is a unique concentrate containing an increased amount of fir cell juice. With T8 Extra you can make an aromatic vitamin and energy drink of amazing conifer taste. This is a perfect choice for people leading an active life, for sportsmen and fitness fans.

Buy
Due to the twice the amount of fir cell juice, the drink has a strong antioxidant effect. It makes you stay fresh and strong, reducing the time for recovery after physical activity and helps to handle oxidative stress which is the main reason for fatigue.
Powerful antioxidant effect of the iron-maltol complex activates the natural barrier of the organism protecting from the urban environment
Bioavailable iron fills the cells with oxygen
Polyprenols help to restore damaged cells and optimize the systems of the body.
Original gentle technology of raw materials processing makes it possible to preserve all essential natural substances contained in live fir-needles.
Just dissolve the concentrate in half a glass of water or any other liquid and enjoy the amazing taste of Tayga!
Т8 Extra:
Restores liver cells
Optimizes the systems of the body
Strengthens the barrier of the body against toxins
Activates the regeneration of cells
Improves reproductive function
Increases the resistance of the body to physical stress
Normalizes hormonal basis
NUTRITION FACTS
The nutritional value (in 100 ml. product)
1 portion (2 ml.)
Polyprenols
650 mg.
13 mg. (100% от РСП*)
Maltol
1960 mg.
39,2 mg.
Phenolic acids
240 mg.
4,8 mg.
Vitamin C
135 mg.
2,7 mg.
Iron
125 mg.
2,5 mg.
Flavonoids
80 mg.
1,6 mg.
Magnesium
0,37 mg.
Proteins
0 gm.
0 gm.
Fats
0 gm.
0 gm.
Carbohydrates
0 gm.
0 gm.
Energy value
0 kcal
0 kcal
Сapacity: 50 ml.
Daily consumption: 2 ml.