TEO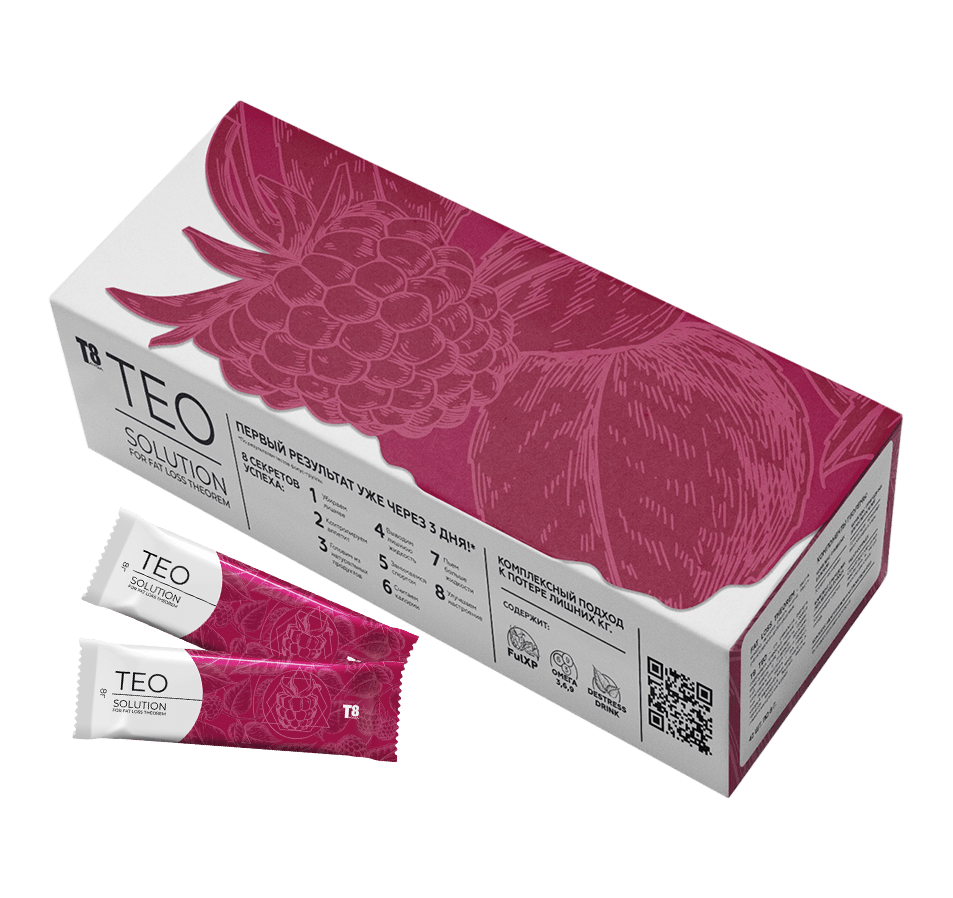 TEO
If you want to know the secret of lightness and fitness, try our new T8 TEO – your personal assistant in weight loss and beautiful body issues! You will like this delightful raspberry taste. And it's convenient to use in any situation. Deal with challenges in a simple and convenient format!

КУПИТЬ
The New Product has all necessary effects:
Allays the feeling of hunger and decreases appetite
Decreases absorption of fats and carbohydrates
Has an anti-oxidative effect
Has a tonic effect
Has a general strengthening effect
Simple and convenient. It gives understandable results.
Note: taking into account individual specific features of human bodies, diet, sports activities and individual factors, VILAVI Company does not guarantee 100% weight loss results.
Ingredients:
Soya fibre, Pectin, Chia seeds powder, Linum bran, Beet juice, Erythritol, Gum arabic, Guarana dry extract, Zeolite, Tartaric acid, Lactulose, Raspberry flavoring agent (Raspberry ketone), Chitosan, Hoodia Gordonii dry extract, Nettle dry extract, Bitter orange skin dry extract, Sucralose, Garcinia Gummi-gutta dry extract, Gynostemma dry extract, Plectranthus Barbatus dry extract, FulXP Complex.
Storage:
Store in a dry well-ventilated place at 0 to +25°C and relative air humidity less than 70%
Period of validity:
Two years
Recommended use:
Dissolve 1 sachet (8 g) in a glass of room-temperature water and blend intensively. The drink is ready. Take 30 minutes before a meal.
Table of Recommended Use:
| | | |
| --- | --- | --- |
| Condition: | Time: | Times per week: |
| Weight loss | 30 minutes before a meal | 3 times per day |
| Weight maintenance | Before, during, after a meal | 3 times per day |
| LCHF diet | 2 hours or 2 hours after a meal | 1 times per day |
Calorie table
| | | | |
| --- | --- | --- | --- |
| Name | the contents of 1 sachet (8 g), g | content in 1 sachet, % of AUP | content in daily intake (3 sachets), % of AUP |
| 1. Energy value | 2 | 0,08 | 0,24 |
| 2. Proteins | 0,12 | 0,16 | 0,48 |
| 3. Fats | 0,064 | 0,08 | 0,24 |
| 4. Carbohydrates | 0,232 | 0,06 | 0,18 |
| 5. Insoluble dietary fiber | 4,84 | 16 | 48 |
| 6. Soluble dietary fiber | 1,0 | 50 | 150 |
| 7. Caffeine | 0,018 | 18 | 54 |
| 8. Humic substances | 0,015 | 30 | 90 |
| 9. Synephrine | 0,0036 | 72 | 216 |
| 10. Gypenosides | 0,018 | - | - |
| 11. Hydroxycitric acid | 0,018 | 18 | 54 |
| 12. Forskolin | 0,015 | 30 | 90 |
Forty-two sachets in one T8 TEO box